Dogface is your place for new and used heavy equipment!
Tom Ramsey, owner and CEO of Dog Face Equipment in Salt Lake City, Utah isn't new to the heavy equipment business. For him, heavy machinery is in his blood. He's been dealing with heavy equipment and machinery sales for over half of his life. Tom began his career over 30 years ago in the sales and leasing department for a well-known dealership. After outgrowing his position, he moved on to an even larger heavy machinery dealership. Here he worked with a wide variety of tools, exotic cars and every type of machinery you can think of. There he learned how to repair every piece of machinery possible. Tom spent over 20 years at the dealership sharpening his skills on heavy machinery sales, repairs and more. While content with his position at the dealership, he was still looking for more. This is where Dog Face Equipment was born. He was able to bring the valuable experience and knowledge he learned at the heavy equipment dealership to Dog Face Equipment.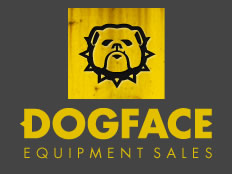 Tom's passion in life is heavy equipment. His goal is to be the number one heavy equipment dealership in the world. Tom is well on his way to completing this goal with the addition of worldwide machinery exporting. If you live outside the United States but need a piece of heavy equipment, Dog Face Equipment is the business for you. When you think of heavy equipment, think of Dog Face Equipment. Tom comes to work every day wanting to sell used heavy machinery to construction companies, contractors and anyone that's in need of a bulldozer, excavator or trailer. His team of heavy equipment experts will work with you to ensure that you receive the best price and service possible. Tom thinks that work should be an adventure, not a chore which is how he runs things at Dog Face Equipment. There is never a dull day on the lot. Visit our machinery lot in Salt Lake City to find out for yourself how knowledgeable Tom and his team are. If you're looking for an affordably priced piece of heavy machinery, look no further than Tom Ramsey and Dog Face Equipment.Tom Ramsey built Dog Face Equipment from the ground up over 10 years ago and hasn't looked back. Tom really is the top dog when it comes to heavy equipment sales in the USA.
Call or text dogface equipment at: (801-580-1159)