Category
Screens
Heavy Equipment Specs:
*CONDITION: USED
*DESCRIPTION:

CEC Screen
Comes with extra screens!
New engine! only 1,700 hours less than 150 on the new engine approx.
Material impact and separation
• Heavy duty screen mesh and punch plate are available as
optional
• Fixed 12° angle
DIESEL ENGINE AND HYDRAULICS
• Air-cooled – Deutz diesel engine powers the screen plant
• Deutz diesel engine provides 53hp to the plant
• The power package
o Engine
o Hydraulic tank
o Hydraulic pump
o Control valve
o Starter panel
o Battery pack
• Entire engine compartment is enclosed with an impact roof
to protect the engine compartment
• Engine package is inside lockable steel housing
• Engine compartment mounts above the fifth wheel pull area
o out of the way for plant operation
• All engine components are accessible for plant maintenance
and operation
TRANSPORTATION
• Running gear
o Oil filled hubs
o Air brakes
o Single axle
o Mud flaps
o Lights
o Fifth wheel pull
ALL HYDRAULIC SET UP AND OPERATION
• Hydraulic leg is standard equipment for the "BOX IT 710"
• Hydraulic leg allows the operator to set plant up quickly
Ready to work today!
Located in Salt Lake City Utah
* All equipment is sold as is, with no warranties expressed or implied as to the condition, safety, or operation.This representation is for Dog face Equipment Sales, and does not guarantee the accuracy of this equipment. We strongly recommend that you satisfy yourself as to the condition of the equipment by inspecting the machines yourself or hiring a third party to provide you with a condition /inspection report. Operation parts & service manuals are not included with any machines unless specified.
REQUEST A QUOTE
CONTACT US ABOUT: CEC BOX-IT-170
OR CALL (866) 908-5900
More Screens Equipment For Sale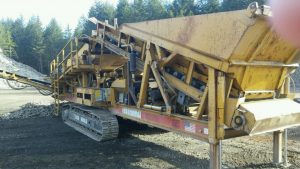 Regular Price: $154,500.00
Sale Price: $150,000.00